"Social media is not just a spoke on the wheel of marketing. It's becoming the way entire bicycles are built."- Ryan Lilly, Co-founder of Ride Social Media Marketing
Introduction:
Social media management has become an essential part of digital marketing. With millions of people using social media platforms such as Facebook, Twitter, Instagram, and LinkedIn, businesses have the opportunity to reach and engage with their target audience in ways that were not possible before. However, managing social media accounts can be a time-consuming and complex task, and it requires a well-planned strategy and the right tools to be successful. In this article, we will explore the importance of social media management and share tips and best practices for effective social media management.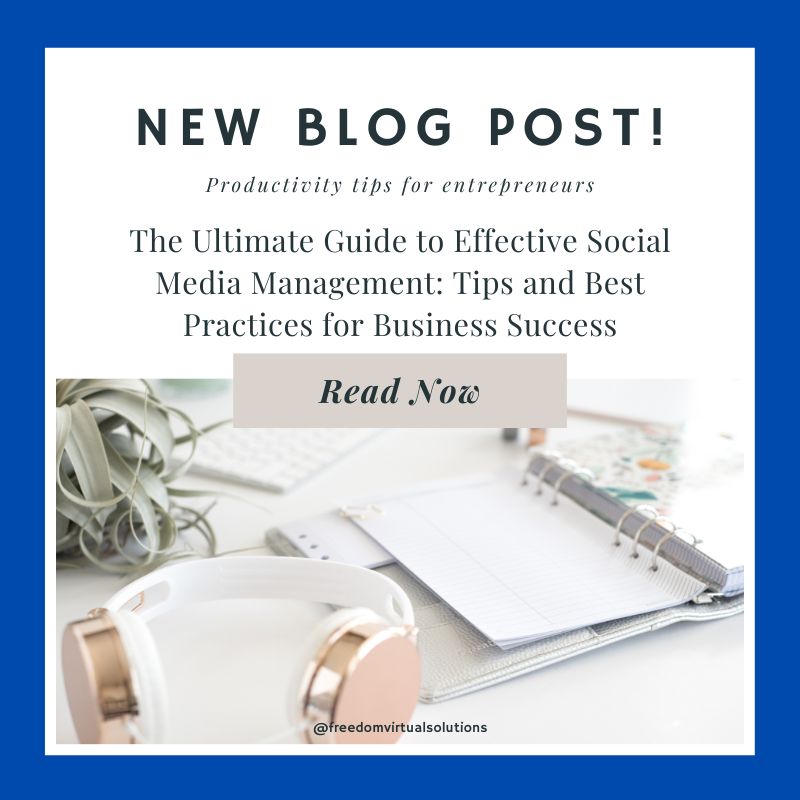 The Ultimate Guide to Effective Social Media Management: Tips and Best Practices for Business Success 👊
Why is social media management important?
Social media management is important for several reasons. First, it helps businesses connect with their audience and build relationships. Social media platforms provide an opportunity for businesses to engage with their customers, share information about their products or services, and gather feedback and insights. By responding to comments and messages and providing helpful information, businesses can establish themselves as trusted sources and build loyalty with their customers.
Second, social media management can help businesses increase their online visibility and drive traffic to their website. By sharing high-quality content and using relevant hashtags, businesses can attract new followers and increase their reach on social media. Social media platforms also allow businesses to run targeted advertising campaigns, which can help them reach their ideal audience and drive more leads and sales.
Finally, social media management can help businesses stay on top of industry trends and keep up with their competitors. By monitoring social media conversations and staying up-to-date with the latest social media tools and best practices, businesses can stay ahead of the curve and remain competitive in their industry.
Tips for effective social media management
Here are some tips and best practices for effective social media management:
Develop a social media strategy: Before you start managing your social media accounts, it's important to develop a clear strategy that aligns with your business goals. This includes identifying your target audience, choosing the right social media platforms, and defining your key performance indicators (KPIs). A well-defined social media strategy can help you stay focused and ensure that your efforts are aligned with your business objectives.

Use a social media management tool: Managing multiple social media accounts can be overwhelming and time-consuming. Using a social media management tool such as Hootsuite or Sprout Social can help you save time and streamline your efforts. These tools allow you to schedule posts in advance, monitor social media conversations, and track your performance metrics in one place.

Create high-quality content: The success of your social media efforts depends on the quality of your content. Make sure that your content is relevant, engaging, and visually appealing. Use images, videos, and infographics to make your content more shareable and increase engagement with your audience.

Engage with your audience: Social media is a two-way conversation, so make sure to engage with your audience by responding to comments, messages, and mentions. This can help you build relationships and establish yourself as a trusted source in your industry.

Monitor your performance: Regularly monitoring your social media performance is important to ensure that your efforts are driving results. Use social media analytics tools to track your performance metrics, such as reach, engagement, and conversions. Use this data to make data-driven decisions and optimize your social media strategy for better results.

Stay up-to-date with the latest trends: Social media is constantly evolving, so it's important to stay up-to-date with the latest trends and best practices. Attend industry events, read blogs and news articles, and follow thought leaders in your industry to stay ahead of the curve.
In conclusion, social media management is a crucial component of digital marketing. By developing a clear strategy, using the right tools, creating high-quality content, engaging with your audience, monitoring your performance, and staying up-to-date with the latest trends, businesses can effectively manage their social media.